FLAVORS OF  BUDAPEST has been created so that you can also prepare or taste our local specialities, try Hungarian and Jewish food and drinks while you can learn about us and see us in a way most tourists cannot – in our perfect places in the centre of Budapest with an unique culinary experience.
I am a professional chef and cooking fanatic. A long time ago I learned to cook from my mother, then I attended several cooking courses but I only cooked and baked for my friends at home.
My dream was cooking, baking and hospitality for people from all over the world. In 2015 I started a professional Chef school and established the FLAVOR OF BUDAPEST brand.
The next year I passed the exam. I learned and worked a lot, it was hard work, but I enjoyed every moment of it. (Okay, there were some days in summer when the temperature was more than 40 degrees Celsius in the kitchen of the restaurant and I felt it was crazy). During my practice time I worked at SOFITEL Budapest Chain Bridge Hotel and ARANY KAVIAR Russian fine-dining Restaurant. I met a lot of fantastic chefs and teachers who helped my development. I do love cooking, rethinking meals and enjoying great food and a good companion.
I think it is the best when my kitchen is full of life: somebody is chopping onions, someone else is preparing the meat or is kneading dough. The pots are bubbling and we are talking, laughing and sipping delicious wine and the smell of the food fills the whole flat. This is how we cook together in our kitchen. This is the atmosphere you can enjoy at my culinary experiences.
I hope to see you soon in one of my events.
Budapest is a beautiful, bustling European city with numerous sights and exciting programs. There are a lot of gorgeous buildings which are soaked in history and three of them are part of the UNESCO World Heritage Site: Buda Castle Quarter, Panorama of the Riverbanks of Danube and Andrassy Avenue are all worth visiting. Besides the historic buildings, it is important to mention the active gastronomical life: four-Michelin-star restaurants, many high-quality bars and restaurants, local markets, ruin pubs and different culinary festivals.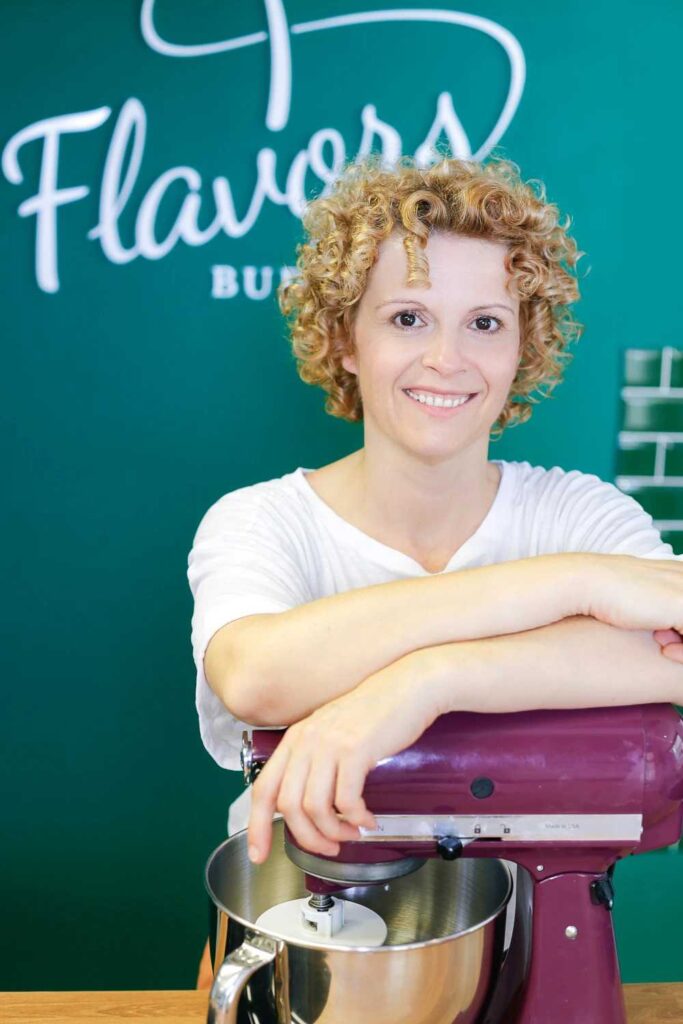 DISCOVER HUNGARY THROUGH GASTRONOMY
My roots, my family, the place where I grew up, the customs associated with each holiday and the history of Hungary are very important to me. All of these are included in my dishes. I respect the traditions, but I try to add something extra to them myself. This also appears in my events. My goal is for you to take your experiences in my kitchen with you to the world where you live, share them with your family and friends and tell them that Hungary is a very exciting, great place worth visiting.
2 PLACES IN THE CENTRE OF BUDAPEST
We have 2 different places in the centre of Budapest. Both are very easy to access and they are in nice historic upper- middle-class buildings. The smaller place is in an apartment in 7th district. You can find it in the popular Kiraly Street, 3-minute walk from Erzsebet Boulevard. The building was built in 1920s and it has an old gate and staircase, corridors, an inner yard.  The bigger place is founded behind the splendid Opera Hall in a pedestrian street. It has a huge inner space and perfect for bigger groups. 
None of them are basement rooms.
WHERE THE THINGS ARE HAPPENING
The kitchen is my sacred place, my temple, but that does not mean that others are not allowed to enter. Quite the opposite! Come and cook together, enjoy the fresh ingredients, modern kitchen tools, local tastes as well as the good atmosphere. Both kitchens are well-equipped, the kitchen tools help us to make everything run smoothly during the cooking. You can come alone or with your partner, friends or as a part of a group. Enjoy the local food, learn about Hungarian and Jewish cuisine, customs and meet new people and make new friends.