Do you like eating? Are you interested in Hungarian cuisine? Would you like to meet locals?
If your answer is yes, we would like to welcome you to my apartment for an authentic, traditional Hungarian private dining experience. It is similar to a family dinner. Common meals with quality wines, chatting in a friendly atmosphere. It is the greatest choice for you if you do not want to cook but you prefer eating and learning about Hungary, Hungarian life, customs, food and culture.
This is a two-hour-long culinary experience with a typical Hungarian 3-course menu. The private dinner is at a private historic upper-middle class venue in the centre where you can meet guests from other countries at my dining table so you can make new friends as well.
Come and eat with a local chef!
Every dinner is very important for me.  When I composed the menu, I kept 3 things in my mind:
the  dishes have to be harmonized with each other and form a unified whole
considering my guests' eventual requirements about a preferred food, special occasion or any food intolerances
I would like to give you a slice of Hungary through my food
When I prepare a dinner, I use family recipes from my mother and my husband's grandma. I combine these traditional recipes with the new kitchen methods. I certainly prefer fresh, local and homemade ingredients. I do not have portions like restaurants do. You can always ask for more (I am happy to refill your glass and put some more on your plate). No problem if you are vegetarian or you have any food allergies. Please, let me know this when you register for dinner and we will change the menu according to your needs.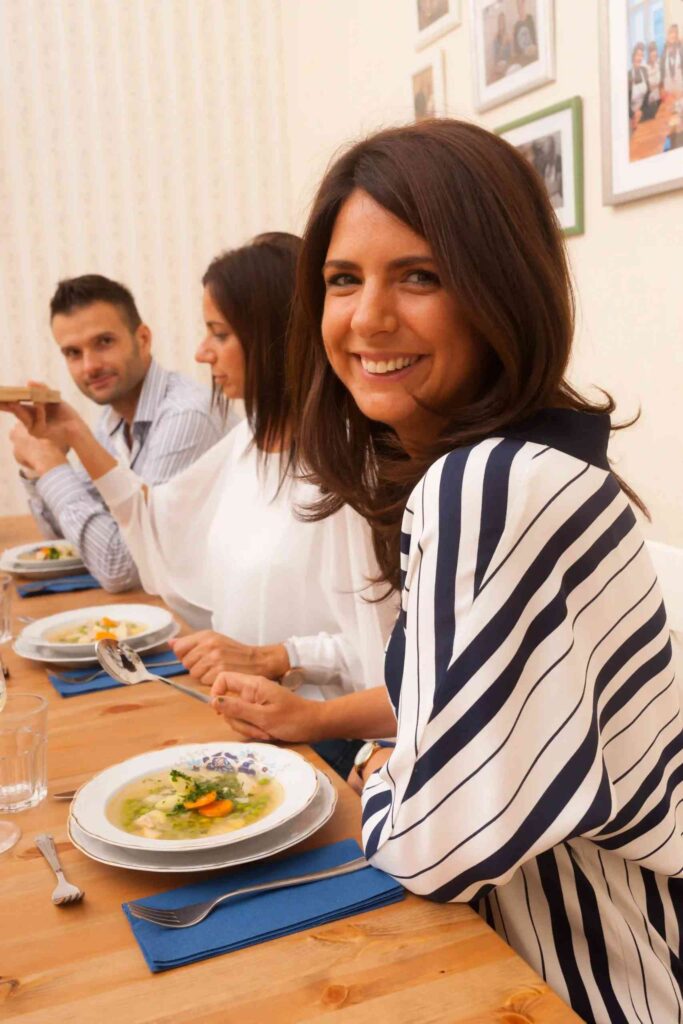 3-course dinner (soup, main course, dessert)
homemade Hungarian dishes by family recipes (NOT fine dining)
drinks: Hungarian palinka, 2 dl Hungarian wine (red and white), homemade soft drinks still or sparkling), mineral water, coffee
a really special food tourism experience by a local chef
two-hour private dinner with a lot of interesting stories and information about food, customs and everyday life and culture in Hungary
the nice private place in a historic upper-middle class building in the downtown (NOT a basement place)
The dinner starts at 7 pm and finishes at about 9 pm. Minimum participants are 6 persons. Every dinner needs to be organized, so please, you are kindly requested to register in advance. If you have any questions about the dinner, booking and details, please do not hesitate to write us.
Payment: You can pay in cash after the program or transfer the money to my bank account (in this case, please contact me) depending on which is more suitable for you. I accept Euros, US Dollars or Hungarian Forints. If you are not satisfied with my service, You will get a 100% refund of the price of the meals.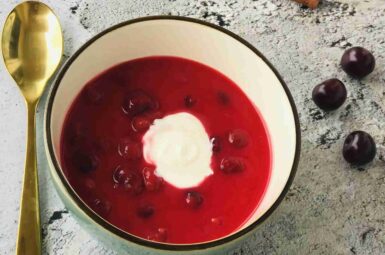 I think it is the most special soup in Hungary because it is cold, sweet & sour and pink and the taste: a pinch of cinnamon, vanilla and cloves. 
Have I piqued your interest? 
This is one of the most famous Hungarian dish and it is not by chance because it is richer and tastier than the simple stew. We eat it with small homemade pasta and pickled cucumber. 
OMG! This is an iconic dessert and you have to taste it. It is a layered cake with apricot jam, walnut between the layers and dark chocolate on the top.