What is the better way to get to know a foreign country than through the local food? The best way to get to know the famous local food is to make it in a cooking or baking class.
The 'FLAVORS OF BUDAPEST' is more than a cooking school. It is a gastronomy space where your group can make local food, taste local ingredients and learn about Hungarian cuisines, customs, culture through hands-on culinary experiences.
On every event we use local, preferably homemade ingredients, so the quality is very important for us. The culmination of each cooking class is an authentic Hungarian meal shared around the table with new friends. The experience doesn't end with food, the dishes are paired with Hungarian wines so your group gets an even more complete picture of Hungary. This is what we offer to your group.
It includes:
customized menu and several option for cooking classes
all ingredients, kitchen tools and equipments, our help and guidance by a professional chef
all recipes in English
well-designed venue in the centre of Budapest (not a basement room)
private culinary experience just for your group
Unforgettable event with all details
lots of interesting information about Hungary, customs, culture
Max. participants: 42 people
Special offer which fit well into a sightseeing tour
Hungarian cooking class (2 – 4 hours long) – 

Different customized menus with the most famous Hungarian dishes. Goulash soup, Chicken paprikash, Cherry soup, Savoury meat pancake Hortobagy style, Stuffed cabbage, Hungarian desserts, such as Gerbaud layered cake, Gundel pancake and more. 

During the cooking you can taste the typical Hungarian bites as well such as different peppers, sausage, spicy cottage cheese cream. 

Welcome drink, quality Hungarian wines. 

 
Stretched Strudel making class (2,5 hours long event)

Strudel pastry is elastic, very thin and it is stretched by the hand. We make sweet and salty versions as well. Different fillings like apple, sweet farmer cheese with sour cherry, poppy-seed with pumpkin, sweet or salty cabbage. During the baking you can taste the typical Hungarian bites as well. 100% hands-on, spectacular and special culinary event.

Langos making class (No.1 street food making, 2 hours long)-

It is a deep fried flat bread and is eaten fresh and warm when it is crunchy. You can taste it with different toppings. Most frequently, topped with sour cream and grated cheese, red onion or sausage. Without toppings, just brush with garlic cream. We make together this delicious street food from the beginning to the end. You can enjoy them with quality Hungarian wine. 100% hands-on culinary event.

Hungarian Goulash and Chicken paprikash cooking (2-2.5 hours long)

Hungarian Private Dining (Dinner – 2 hours long)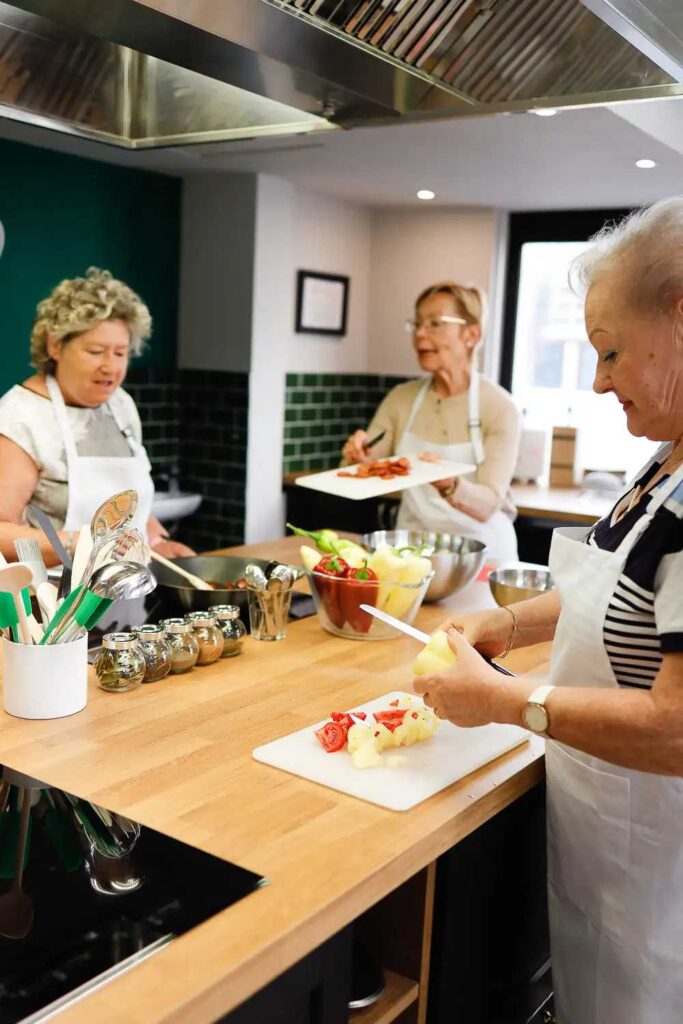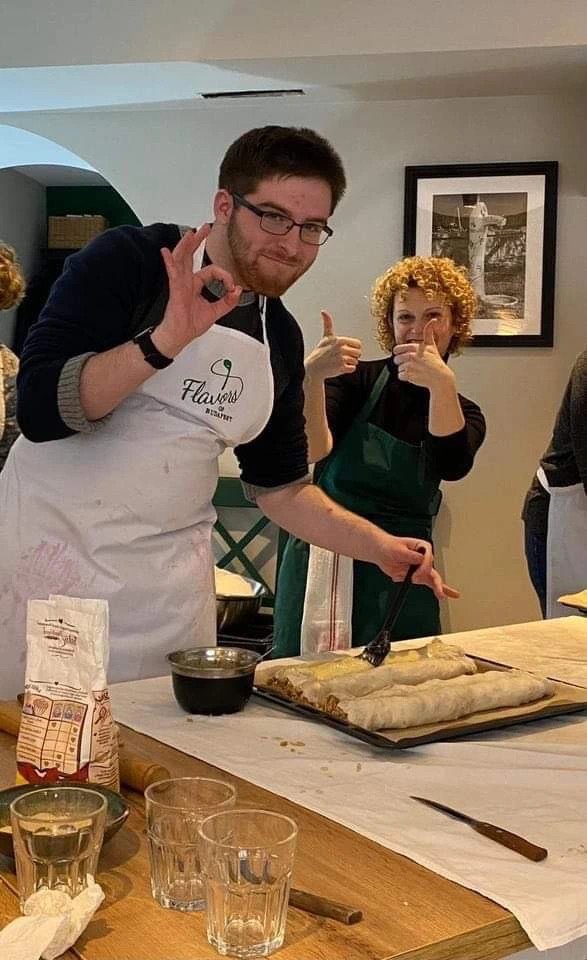 Our both kitchen studios are easily accessible and have well-designed, well-equipped kitchens. We offer 100% hand-on courses, on which everybody has an active role and gets involved in the process with our help and guidance. The group is broken into smaller teams. Each team has their own station where they prepare a dish for everybody, this is how the whole multi-course menu is set up. The ingredients are prepared on the stations in order to run everything smoothly.
After the cooking the whole group can enjoy the result of their efforts, they eat together, taste some delicious Hungarian wine and they can chat in a pleasant atmosphere.
Why choose us
because this way you can give your guests an unforgettable event
your guests can learn about Hungary, local food and customs
we are dedicated to representing local cuisine
quality ingredients and services are very important for us
both locations are easily accessible on foot
our culinary experiences fit well in the sightseeing
We hope this experience aroused your interest and we are looking forward to meeting you in our kitchen.
Contact us and ask for our special offer.
If you have any questions, please, feel free to write us.