Bachelorette and Bachelor Party
Looking for a one-of-a-kind bachelorette party experience in Budapest? Look no further! Get ready to spice up your celebration with a delicious twist as we present a unique culinary adventure that will leave you and your bridesmaids tantalized and delighted.
Summer is the season of bachelorette (Hen Do) or Bachelor parties. When you are searching between affordable bachelor(ette), Hen party destinations, Budapest must come to your mind first. Budapest is a brilliant hen do or stag party destination for foodies.
"Flavors of Budapest" is a great choice for organising a perfect culinary Bachelorette (Hen party, Hen Do, Bridal shower), Bachelor party (Stag Do) or any private event. The perfect way to celebrate and honor the special moments leading up to the big day!
If you're looking for an alternative celebration such as a culinary experience – cooking class, Langos making class, stretched Strudel making class,-  you are in the right place. We offer you real and great hands-on experiences. Dive into the world of Hungarian food with our cooking or baking class.
Celebrate your Budapest culinary Bachelor(ette), Hen or Stag party in the "Flavors of Budapest" – Opera or Boulevard venue. So, spice up your bachelorette/Hen do party in Budapest with an unforgettable cooking experience.
Get a taste of the delicious Hungarian cuisine by making dishes such as Hungarian Goulash soup, Chicken paprikash or Salty meat pancake Hortobagy-style. Let's make Langos (Nr.1 street food in Hungary), or traditional stretched strudel and rinse your palate with Palinka before heading to the city's ruin bars, nightclubs and lounges.
Cooking is a massive part of life over in Hungary. Pop a cooking class on the hen do agenda and you can say you got some culture without touring museums all day. Learn how to prepare the most famous Hungarian dishes!
Discover Hungary through Gastronomy!
Perfect location and exclusive venue. We are in the centre of Budapest, directly behind the splendid Opera House, from which, party places, ruin bars and various night clubs are very close. After the culinary experience, it's easy to continue the party time, as everything is within walking distance.
If you would like to organize a private event, a joint cooking or baking experience in an exclusive place in the heart of the city could be a perfect choice.
If you want to give something unforgettable to the celebrant (for a birthday or anything), please, contact us and we will figure it out and organise it for them. 
Book your culinary extravaganza and get ready to create unforgettable memories with your closest friends!
What we offer:
Exclusive venue for bachelorette (Hen Do, Bridal shower) or bachelor party (Stag party) or for any private events
Unforgettable event with all details
All ingredients, kitchen tools and equipments, our help and guidance by a professional local chef
Delicious food that we make together
Free-flowing refreshments, especially selected fruit brandy, called Palinka, red and white wine
Perfect location in the centre of Budapest
  Max. participants: 42 people
 Options:
Cooking or Baking class –  5 different menus with the most famous Hungarian dishes. During the cooking you can taste the typical Hungarian bites as well.
Stretched Strudel making class – Strudel pastry is elastic, very thin and it is stretched by the hand. We make sweet and salty versions as well. Real, 100% hands-on program.
Langos making class  (No.1 street food in Hungary) – It is a deep fried flat bread and is eaten fresh and warm when it is crunchy. 

You can taste it with different toppings. Most frequently, t

opped with sour cream and grated cheese, red onion or sausage.

100% hands-on event.

Fry up your own golden, crispy Langos and customize it with your favorite toppings.
Personalized culinary experiences
Hungarian private dining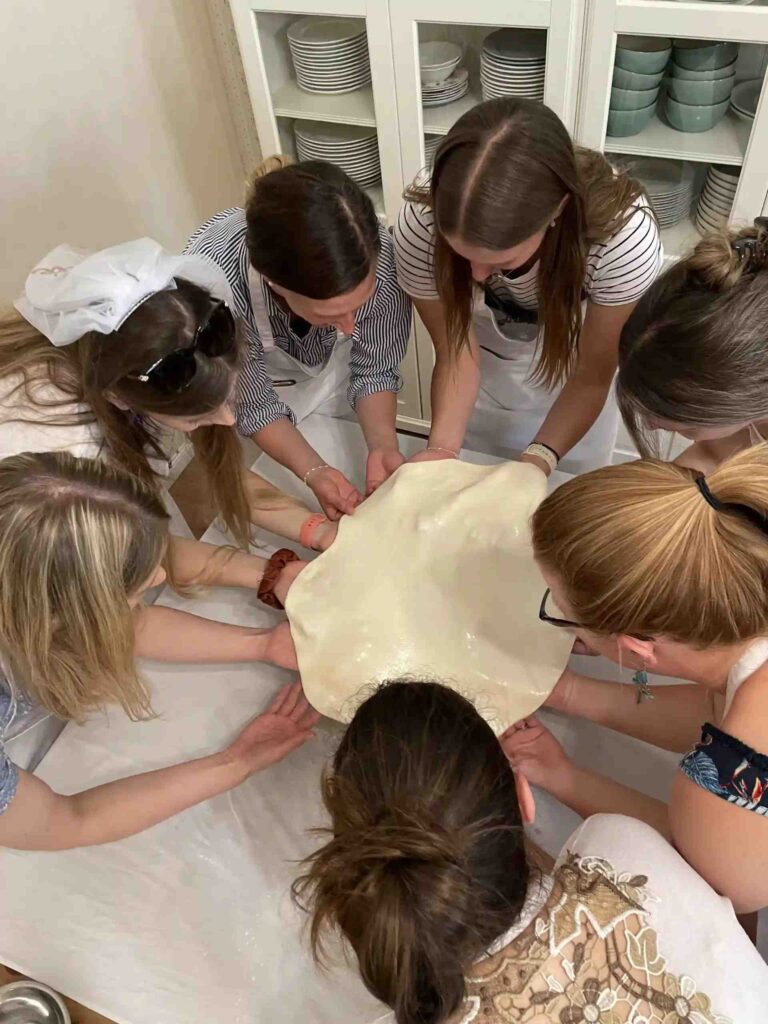 Our both kitchen studios are easily accessible and have well-designed and well-equipped kitchens. We offer 100% hand-on courses, on which everybody has an active role and gets involved in the process with our help and guidance.
On every culinary experience, we use local and homemade ingredients and the quality is very important for us.
After the cooking or baking, the whole team can enjoy the result of their efforts, they eat together, taste some delicious Hungarian wine and they can chat in a pleasant atmosphere.