Hungarian Cooking Class – Menu A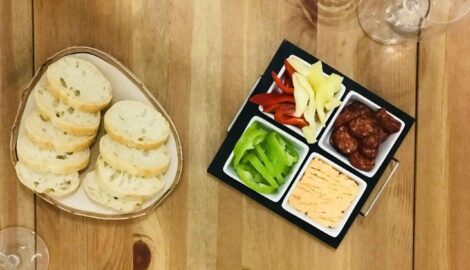 The Hungarian finger food is an appetizer. They are bites which are called as soldiers in Hungarian. Generally they consist of a piece of bread, and then some meat paté, or sausage or curd cheese spread (körözött) or pork crackling. On the top you can see some vegetables, for example Hungarian sweet paprika, tomato, a slice of onion, or radish. This bites go well with Hungarian fruit brandy (pálinka). This drink is very strong, so it can do harm very easily but this finger food helps.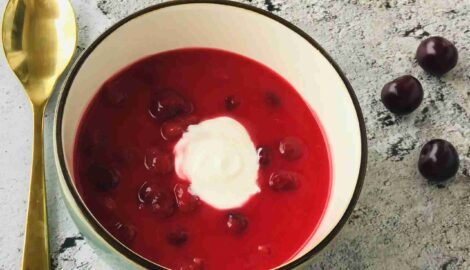 In summer I cook it with fresh fruit and I prefer if there are a lot of different types of fruit in the soup, for example apple, strawberry, raspberry, blueberry, plum, pear, but I always use sour cherry in fruit soup. In winter you can make it with orange or frozen fruit, too. In Hungary we eat it cool with whipped cream.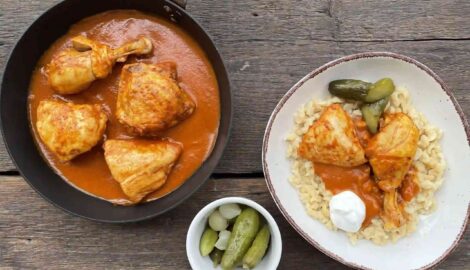 Chicken Paprikash with Small Dumplings
The recipe of paprika chicken first appeared in 1830 in István Czifray's cookbook. The cookbook also included the recipes of gulyás and stew, which means the three different cooking processes were differentiated at this time already. Sour cream was also added to the paprikás and the dish was connected to the middle classes living of the city. The sour cream chicken paprikás started to spread to the lower classes from here. It first appeared on a restaurant menu in Szeged in 1825. By the middle of the 1800s the name paprikás had lost the stew/gulyás meaning used on the plains and started to be used exclusively to refer to the sour cream versions of the restaurant business. Usually it is served with dumplings or pasta pellets and homemade pickles.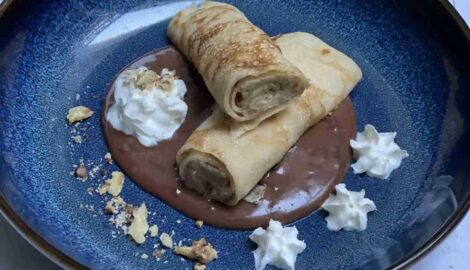 This dessert is named after Karoly Gundel who was a very famous restaurant owner in 20th century in Budapest. You would think that it is the Gundel family's specialty, but is was actually created by the wife of a famous Hungarian writer, Sándor Márai. She made this dessert for a special banquet in 1940 which was organised in the Gundel Restaurant. Ilona Matzner (Lola) made one of her family's specialties, pancakes filled with walnut, raisin and orange zest for the occasion. Károly Gundel loved it so much that he put it on the menu under the name of Márai pancake. But when the couple was emigrated, the pancake was renamed to Gundel pancake.
If you want to cook with me, please click on the "Book now" button and choose a day from the calendar or choose to book based on the "type of cooking class" and click on the "Hungarian Cooking Class" picture.
Fill in the registration form and book
We will confirm your reservation within 24 hours. If you do not get a confirmation letter with the details (after checking the spam box as well), please contact me in email (info@cookinghungary.com). Thanks.